Posts for: December, 2017
By Kid Dental
December 21, 2017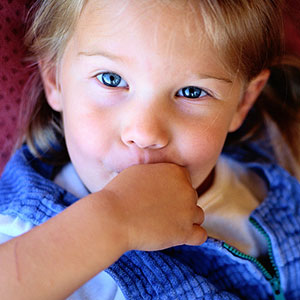 One of the biggest concerns we hear from parents is about their child's thumb sucking habit. Our advice: if they're under age 4, there's no need for concern — yet. If they're older, though, you should be concerned about the possible effect on their bite.
Thumb sucking is a universal habit among infants and toddlers and is related to their swallowing pattern during feeding. As they swallow, their tongue thrusts forward to create a seal with the lips around the breast or a bottle nipple. Many pediatricians believe thumb sucking replicates nursing and so has a comforting effect on infants.
Around age 4, though, this swallowing pattern begins to change to accommodate solid food. The tongue now begins to rest at the back of the top front teeth during swallowing (try swallowing now and you'll see). For most children, their thumb sucking habit also fades during this time and eventually stops.
But for whatever reason, some children don't stop. As the habit persists, the tongue continues to thrust forward rather than toward the back of the top front teeth. Over time this can place undue pressure on both upper and lower front teeth and contribute to the development of an open bite, a slight gap between the upper and lower teeth when the jaws are shut.
While late childhood thumb sucking isn't the only cause for an open bite (abnormal bone growth in one jaw is another), the habit is still a prominent factor. That's why it's important that you start encouraging your child to stop thumb sucking around age 3 and no later than 4. This is best accomplished with positive reinforcement like rewards or praise.
If they've continued the habit a few years after they should have stopped, we may also need to check to see if their swallowing mechanism has become stunted. If so, we may need to use certain exercises to retrain their tongue to take the proper position during swallowing.
While you shouldn't panic, it's important to take action to stop thumb sucking before it becomes a long-term problem. A positive, proactive approach will help avoid costly orthodontic problems later in their lives.
If you would like more information about thumb or finger sucking, please contact us or schedule an appointment for a consultation. You can also learn more about this topic by reading the Dear Doctor magazine article "How Thumb Sucking Affects the Bite."
By Kid Dental
December 06, 2017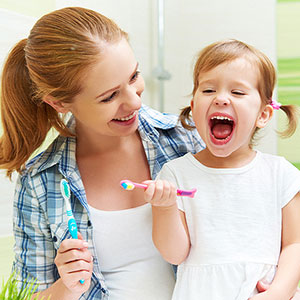 Like any parent you want your child to grow up healthy and strong. So be sure you don't neglect their dental care, a crucial part of overall health and well-being.
The most important part of this care is prevention — stopping dental disease and other problems before they do harm. Proactive prevention is the best way to keep their teeth and gum growth on the right track.
Prevention starts at home with a daily habit of brushing and later flossing. In the beginning, you'll have to brush for them, with just a smear of toothpaste on the toothbrush. As they get older, you can teach them to brush for themselves, graduating to a pea-sized dose of toothpaste.
It's also important to begin regular dental visits around their first birthday. Many of their primary (baby) teeth are coming in, so regular cleanings and checkups will help keep tooth decay in check. Early visits will also get them used to seeing the dentist and hopefully help stimulate a lifelong habit.
These visits have a number of purposes. First and foremost is to monitor dental development and early detection of any emerging problems, like a poor bite. Catching problems early could help reduce or even eliminate future treatment.
Some children are also at greater risk for tooth decay and could benefit from applications of topical fluoride, a mineral that strengthens tooth enamel, or a sealant to help protect the teeth. This is especially helpful in preserving primary (baby) teeth: early loss of a primary tooth could disrupt the permanent tooth's eruption and cause a poor bite.
Your child's dental visits could also benefit you as their caregiver. You receive regular feedback on how well your child's teeth and gums are developing, and the effectiveness of their oral hygiene. You also get answers to your questions about their oral health: the dentist's office is your best source for advice on teething, diet and other issues.
Together, you and your dentist can provide and maintain the best conditions for your child's dental development. The result will be the healthiest mouth they can have as they enter their adult years.
If you would like more information on preventive dentistry for your child, please contact us or schedule an appointment for a consultation.